Dream Theater boast an exceptional cast of musicians, one of the bands members has been so prolific its neigh impossible to list all his many recordings and accomplishments. Keyboardist Jordan Rudess is that exceptionally talented band member. Since joining Dream Theater in the late 90's, Rudess' addition has helped catapult the band into the public conscience as perhaps the greatest ever prog-metal outfit.
Ahead of his November Australian tour, Rudess chats about the tour, his career and his thoughts on some notable collaborators.
"It's called from Bach To Rock, which is the show I'm bringing, and it's focused on a piano. It's a journey. It's kind of like a Jordan Rudess journey through my musical life, which started of course when I was a young person studying at the Julliard School of music in New York City. As most people know more recently, I have been billed with Dream Theater and a lot of other solo stuff. So that kind of pathway from classical music though to progressive metal and everything in between. The fun part of the evening is that it's not only a musical evening, it's also some storytelling. I get to kind of use the piano and all the different styles that I'll play as a vehicle to share this story with everybody of how it kind of all came together. It's a chance for me to really engage with the audience in a way that I don't really get to do in any other format. "
That's Rudess on what attendees of the performances can expect.
Rudess' talents could have been deployed within almost any other genre. So why the focus on heavy metal?
"I was never a huge metal fan. I'm still not necessarily, although I do like certain metal. I'll turn on Metallica and enjoy it or whatever, there's a time and place musically for all that stuff. But what attracted me to it? What got me into Dream Theater was when I first heard them, I was interested as all of a sudden there was this band I was listening to that could play the progressive rock stuff but they mixed it with metal. Not only did they have this mixture, but they also had amazing chops. They could play classical, like a well-trained classical virtuoso. And so that caught my ear. I was like, 'Wow, they're heavy, but they're prog and they play like really their instruments so well.'"
Rudess boasts a remarkable resume. A random sample of his collaborations reveal Kip Winger, Steven Wilson, David Bowie and guitar virtuoso Vinnie Moore. Asked to expand on these collaborations, this is what he had to say.
"With Vinnie Moore, well that was a really interesting time for me because working with Vinnie was one of my first steps into the real music business. Vinnie had a pretty cool thing going. He was like one of the top and this new breed of like shred and neoclassical players that keeps following up with like an Yngwie Malmsteen kind of like concept. So when I met him… (we) instantly became friends and he was just kind of funny, slightly goofy… a super talented guitar player
Kip Winger was a vocalist on a couple of my different albums… a lovely, super talented guy. Amazing classical composer, an interesting career because he was just kind of like a male model and you know, people didn't realise that he's super talented, like super talented musician.
Stephen Wilson is one of my favourite people. I love the guy, I love his music. I met him when he was opening up for Dream Theater with his band Porcupine Tree years ago, we became instant friends because we just had a lot in common and we try to see each other if I'm in the UK … (He's an) incredible musician. Just happy to have had the chance to work with him on different stuff. He sang on The Road Home ('07) as well and I played on a couple of his albums, then we perform live a little bit here and there and you know, just a nice musical and personal relationship there."
Then there is the icon… David Bowie.
"I was with Dream Theater in the studio. I think we were working on Six Degrees of Inner Turbulence ('02) and I got a call from Tony Visconti, a big producer guy. He's produced many of David Bowie's albums. Tony wanted to try some different things with David Bowie so he thought it would be cool to bring me in to do that. Of course, I said yes to that gig, even though I was never a big David Bowie fan, he's so iconic. Everybody knows David Bowie, so I thought this is really cool. I spent about 12 days up in a studio in the Catskills up on a big mountain top with Dave and with various musicians."
Click here for tickets.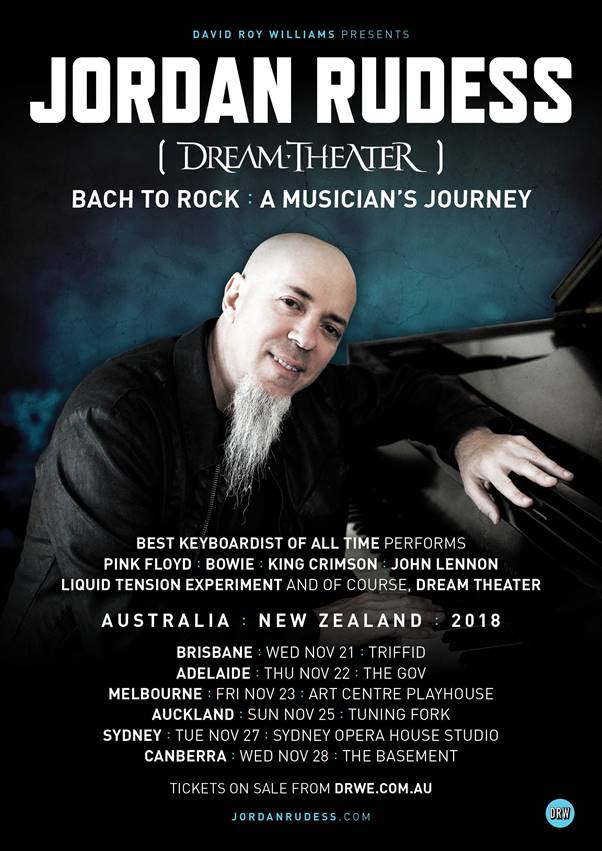 ---
---