Seattle heavy metal outfit Fifth Angel are back! Their new album is called The Third Secret, released 29 years after the previous album, the classic, Time Will Tell. 
The Third Secret is surely an album that establishes the band as a force to be reckoned with in the modern era; this is a collection of songs that honour Fifth Angel's legacy by injecting core elements of their sound from the 80's with modern songwriting techniques and superb production.
The Third Secret was on the cusp of release at the time of the interview, so for those yet to hear the album, this is what bassist John Macko had to say about it.
"We feel that this record stands with our first two. Some people have said they thought it was better, especially some people who weren't original, die-hard fans.
We wanted to make sure that we captured the essence and the style of the old songs as much as possible with modern production. That was actually something that the label had asked as well, but it was also what we were thinking anyway. That's really what we're trying to do. We were not trying to recreate the past because we, all of us, realise that's impossible. There's just no way. We can't jump in a time machine and go back and re-do the first album. There's going to be those people that are going to say, 'Well, you know, you don't have Ted Pilot (vocalist- '83-'90), you don't have James Byrd (Guitarist- '83-'88) and the record's not going to be the same as the first album (Fifth Angel– '86) or Time Will Tell ('89)'.
My whole thought on that is, let's just say even if we had Ted Pilot or if we had James in the band, that doesn't mean that would still sound the same, because everybody's different. We're all much older. We're different people. We're in a different place in life where we've grown as musicians. There's no way that you can go back and recreate the past. We knew that, and we weren't going to even try to do that, but we figured we would at least try to capture some of the styles, some of the essence that made that sound and I think we did a pretty good job on that."
There are a few very cool things happening within the Fifth Angel sound that endear them to 2018 and beyond. Drummer/ percussionist extraordinaire Ken Mary offers a spirited performance, his resume includes Alice Cooper and Flotsam and Jetsam; long-time guitarist Kendall Bechtel adds vocals to his contribution for the recording and foundation guitarist Ed Archer and interview subject (and long tome bassist) Macko ensure that the bands riffage is tight and fast; indeed, this is an album defined by the band members experience and their considerable ambition.
Given the 29 year gap between studio recordings, what inspired the bands reformation then?
"Some of us stayed in touch, some of us didn't, some of us pursued other careers. We just kind of figured, 'Well that's it!'. That was an early chapter of our life and we're going to move on because if you would've told me that 25 years later we would be doing this all over again, I would say you are crazy!
It just never dawned on me to be honest, until I got a phone call in 2009, the summer of 2009 from the promoter from a festival called Keep It True, requesting our presence. I thought it was a joke at first to be honest. I'm like, 'You want us to headline a festival? Are you crazy?… Who would come and see this band?' He said 'Oh, you'd be surprised you guys still have a pretty large fan base all over the world'. I was really just blown away. I couldn't believe it, so that's really what got things moving."
It's an easy assumption to point fans of Helloween, Sabaton and a slew of reactivated bands whose history mirrors Fifth Angel in their direction.  Fair enough. However the writer strongly suggests that fans of the new school of the hard and heavy, younger fans into the contemporary and urbanised flow of Volumes, the post-nu metal of Emmure and the slick sounds of Don Broco; this is the cohort of heavy music that will receive the most value from The Third Secret. 
The Third Secret is out now through Nuclear Blast.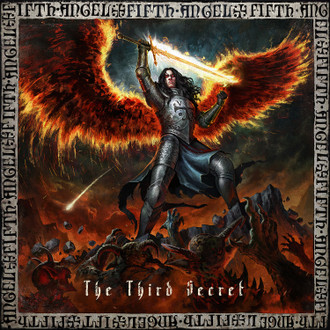 ---
---