NWoBHM originals Raven are all set to tour Australia in June alongside Venom Inc. and Girlschool for a run of shows that should get the blood flowing for any old-school metal aficionado.
It may surprise readers to learn that for Raven, an outfit with an influential history that dates back to the mid-'70s, that this is their first time performing on Australian shores.
The band's bassist/ vocalist, and it must be said, a veritable legend of a human being, is John Gallagher and it is with him that we were able to get the good oil on the Australian tour.
Gallagher said that he hadn't been to Australia, so the tour was an opportunity for Raven to become acquainted with their Australian fans.
"I get to meet the occasional crazy guy who is over for a festival or on some of the metal cruises we've done, and you know, you just know that they're like-minded people, you know the Australians are what you see, what you get, they're very open, passionate… our kind of audience," he said.
"We've never been as a band, and I've never actually even been as a tourist… It's been a bucket list thing for many years, we've tried to make this happen, at least the last 10, 15 years and it never really came together.
"But finally, we are really looking forward to it, there's been people that have been waiting to see us forever and probably despair to the fact that it would never happen.
"Well it's happening, and we are on our way, we are coming and we're gonna kick your ass from one end of Australia to the other!"
Many bands are labeled NWoBHM as if it were a movement or a gathering of like souls who influenced each other to great musical heights.
Like the overblown 'Seattle sound' or grunge moniker that journalists and label types bestowed on bands from Sydney and Seattle to London, the label has nothing to do with a specific scene, yet it does capture the essence or attitude of a particular flavor of music from an era.
Gallagher points out that Raven was the first band from the UK that had an independent metal album in market and the NWoBHM was used broadly to describe the music of many bands who sounded very different.
"The funny thing about the New Wave of British Heavy Metal is it wasn't a club; it was just basically a moment in time where there was a lot of bands spread out over England, all over the UK really who loved this music and wanted to play this music," he said.
"The only thing they had in common was the passion and the energy because Iron Maiden are nothing like Def Leppard who are nothing like Raven, who is nothing like Venom, who is nothing like Angel Witch.
"They're all different, and that's what made it special is that it was so diverse really, and we always had our own thing, we were a three-piece, so that made a difference immediately from 99% of all the other bands."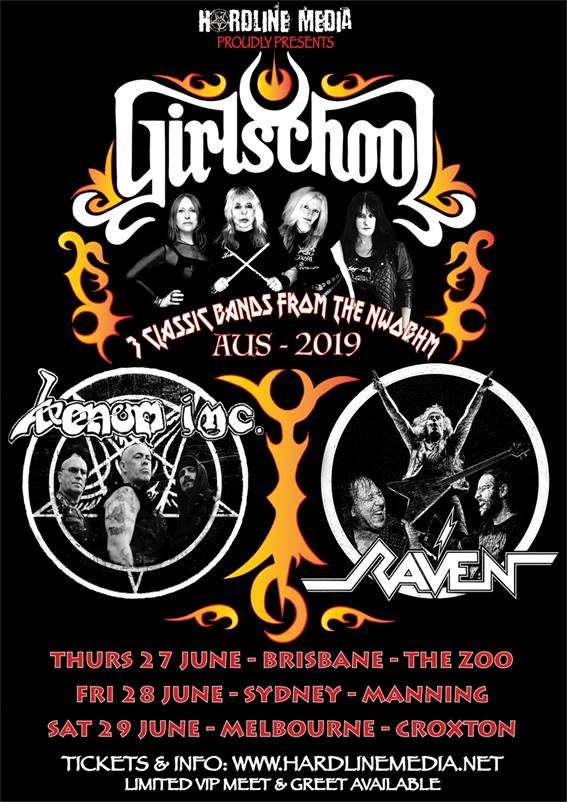 ---
---