Every year I receive hundreds of new releases via email. This year, I decided to omit singles in favour of albums and EP's. Hope this list inspires you to investigate some new sounds!
1. Black Income– unSOUND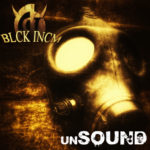 The mastermind behind Danish outfit Black Income is Henrik Thrane. He has formed a remarkable trio who have captured the essence of Alice In Chains, Kyuss, Stone Temple Pilots, and Nirvana, then distilled and reimagined it on the one superb album. An essential release for rock music fans, the best since Weezer's Pinkerton ('96) and At the Drive-In's Relationship of Command ('00).  http://www.blackincome.dk/
—
2. 24-7 Spyz– Soundtrack to the Innermost Galaxy
Selling heavy metal soul by the pound has been guitarist/ vocalist Jimi Hazel and bassist Rick Skatore's trade since the late 80s. Glorious funk metal infused with hefty doses of Marvin Gaye and Sly and the Family Stone. The Soundtrack to the Innermost Galaxy could be the Bronx outfits finest hour. A dense album full of the type of ear candy that'll make the musicians in the readership giddy. Life-affirming stuff. https://24-7spyz.bandcamp.com/album/the-soundtrack-to-the-innermost-galaxy 
—
3. Avatarium– The Fire I Long For
Marcus Jidell has written yet another guitar masterwork demonstrating his considerable chops. Techniques developed by Jimi Hendrix, Eric Clapton, Leslie West, Gary Moore, Richie Blackmore and Tony Iommi are all across The Fire I Long For. Possibly the most versatile guitarist in the biz today. If you are a guitar playing aficionado, check this one out. https://www.facebook.com/avatariumofficial/ 
—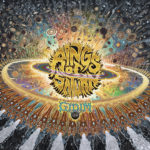 4. Rings of Saturn– Gidim
There was a time not long ago where it looked like Lucas Mann was ready to step out of the music biz. He'd had enough of the bullshit. I wouldn't have blamed him for quitting, but then we'd miss out on his gift for crafting lightspeed ultra-deathcore. Gidim takes us far beyond where previous album Ultu-Ulla ('17) finished. They played the gig of the year at The Brightside in the Valley too. Spectacular. https://www.facebook.com/RingsofSaturnband/
—
 5. Tool– Fear Inoculum
Was it worth the wait? Who cares! Fear Inoculum is a great album that continues to reward after many a listen. Bassist Justin Chancellor is the hero of the album. He offers plenty of killer bass grooves and still manages to lock down the incredible drumming of Danny Carey and algebraic guitar playing of Adam Jones. https://toolband.com/releases/fear-inoculum/
—
6. Opeth– In Cauda Venenum
Opeth continues their evolution into a heavy metal response to 70s style stadium prog outfits Rush, King Crimson, Yes and Jethro Tull. And isn't it sublime! In Cauda Venenum is beautifully contrived music, made by musicians who are approaching expert levels of craftsmanship. Guitarist Fredrik Åkesson continues to impress, offering plenty of tasty licks and guitar hero moments. http://www.opeth.com/ 
—
 7. Lord– Fallen Idols
I've written elsewhere that Lord Tim, Andy Dowling and co. have written an album that bests anything Iron Maiden have done in almost 20 years. I'll add Judas Priest to that list now, except in their case that's nearly 30 years. This Broken Hill via Wollongong outfit should be huge in Europe, and they should be performing on those huge northern hemisphere summer festivals. Razor-sharp thrash inspired by traditional heavy metal. https://lordofficial.bandcamp.com/album/fallen-idols 
—
8. Mayhem– Daemon
I truly enjoyed the film Lords of Chaos; a biopic that explores the circumstances leading to Euronymous' murder. I cannot understand the hate directed toward the film, and I suspect the neo-kvlt basement-dwellers in the black metal elite will also heap shit on Daemon, an album that hints at the majesty of De Mysteriis Dom Sathanas ('94). There are plenty of new ideas to keep the band relevant well beyond the protestations of the 4chan brigade. https://www.thetruemayhem.com/
—
 9. The Gloom in the Corner– Survivors Guilt
Like clockwork, a world-class band manages to emerge from the Victorian capital annually. This year, it's The Gloom in the Corner. If you can imagine what Korn could sound like if they harnessed the musical violence of Deicide, then this approaches the sounds across Survivors Guilt. Will be interesting to see how they develop in the next few years. https://www.facebook.com/tgitcband/
—
10. Nocturnus AD– Paradox
The great Mike Browning returns with a worthy follow up to the supreme masterpiece, The Key (Nocturnus– '90). Browning is an enigma wrapped in a riddle; a key collaborator with a very young Trey Azagthoth in Morbid Angel, his vocals and drum work was crucial in the development of the nascent death metal genre. Paradox proves that Browning is a significant and enduring voice in the music biz. https://profoundlorerecords.bandcamp.com/album/paradox
—
 11. Cellar Darling– The Spell
Anna Murphy and Ivo Henzi combine to create a stunning panoramic journey through the bands evolving musical universe. Guitarist Henzi is one of the most promising emerging guitarists in metal. The audiobook accompaniment will help you go to sleep too (in a good way!) https://www.cellardarling.com/
—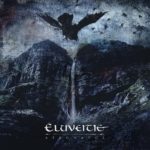 12. Eluveitie– Ategnatos; 
Chrigel Glanzmann has done it again. 2017's Evocation II- Pantheon proved that there was a career for the band beyond the brilliant Anna Murphy. Ategnatos is where Glanzmann and the newish band members double down to deliver Eluveitie's strongest album since Everything Remains [As It Never Was] ('10). http://www.eluveitie.ch/
—
 13. Alcest– Spiritual Instinct
Guitarist and vocalist Neige used analogue equipment and tape to capture the album. Thank God! This is one of those albums where the intricacies and mood would have suffered had it been recorded digitally. Stunning.  http://www.alcest-music.com/home/spiritual-instinct
—
14. Deez Nuts– You Got Me Fucked Up
Hands up if you thought this band was a piss-take because of the name? I get sent A LOT of albums, and I'm glad I listened to this one. They remind me of a pop-punk version of Emmure. The guitarist may just have captured the best tone on any album all year too! http://www.unfdcentral.com/music/deez-nuts/
—
 15. Adrenaline– Adrenaline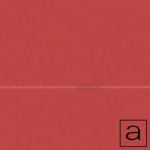 Killer hardcore from Baltimore, United States. Very well recorded, the guitars slice through your headphones and slash at your eardrum. Choice beats underpin a series of memorable riffs giving the vocals plenty of room to spit a diatribe. Best hardcore release of the year!  http://www.facebook.com/adrenalinehc 
—
16. Memoriam– Requiem for Mankind 
With Boris winning the UK general election, vocalist Karl Willets has plenty of fodder for writing lyrics and new material. It'll be tough to follow up Requiem for Mankind though, a brutal bastard of an album powered by the twin-turbine of Willets' almighty roar and Scott Fairfax's grinding guitars. The best of British grind. http://www.memoriam.uk.com/ 
—
 17. IV Dante– Purple (EP)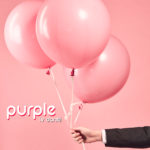 This Melbourne musician has it all in front of him. Sunny sythn- rock that doesn't sound like it should be background music on Neighbours or Home and Away. Purple is an EP full of catchy synth riffs powered by driving beats. Very even mix so you can hear everything. Nice work! https://www.facebook.com/ivdantemusic/ 
—
18. Jack Runaway– Drinking Alone 
This album is worth investigating for the title track alone. Lyricism is a dark art, and on that point, the band's main man Chris Hoskin possesses a deft hand. Most of us who have lost a loved one or felt the burn of a weak hand could relate to Hoskins lyrics. His voice conveys rich emotion. Underrated. https://www.facebook.com/Jackrunawayofficial/ 
—
19. Laurie Luke– Way Back When (EP)
Multi-Instrumentalist Luke brings us back to the future. If you like 90s era radio rock with a harder edge, this is for you. Each one of the five tracks on this EP has a unique flavour. Will be very interesting to see where Luke takes us on his next release. https://www.facebook.com/laurielukerecords/ 
—
20. Battle Beast– No More Hollywood Endings
Another album with a truly epic title track. This Finnish outfit has impressed since vocalist Noora Louhimo joined the band for Unholy Saviour ('15). In a review a few years back for Bringer of Pain ('17), I said these guys are perfecting dance-metal. Still true. https://battlebeast.fi/ 
—
 21. NorthTale– Welcome to Paradise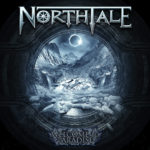 Bill Hudson is one of the great guitar heroes of 2019 and beyond. The Brazilian born guitarist has performed in outfit's as varied as Trans-Siberian Orchestra, Vital Remains, and David Vincent's I Am Morbid. Welcome to Paradise is a powerful heavy metal tour-de-force of supreme guitar performance. https://www.facebook.com/NorthtaleOfficial/
—
22. Fallujah– Undying Light
Dense deathcore powered by Scott Carstairs guitar. Typically, busy drumming is a cover for lack of ideas and the essential ingredient, great riffs. Not on this album. Nice recovery from Carstairs and the lads after losing vocalist Alex Hofmann. https://www.facebook.com/fallujahofficial/
—
23. Omenfilth– Devourer of the Seven Moons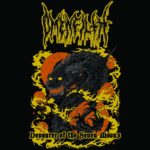 The Philippines is a hotbed of activity for extreme metal, and Willie Desamero is a prime example of the talent in the country. Desamero writes black metal in the vein of early Immortal. A brutal satanic onslaught. Best listened to via a cassette tape. https://eternaldeath.bandcamp.com/album/devourer-of-the-seven-moons
—
24. Danko Jones– A Rock Supreme
When I had a chat with Jones, I had to apologise as I thought he was much bigger than he is. I don't get it. Jones offers the type of radio-friendly rock that can easily get played on high rotation. This album should be massive. http://www.dankojones.com/pre-order-a-rock-supreme/ 
—
25. Jinjer– Micro (EP) & Macro (album)
The EP was a pitstop on the band's way to superstardom, which must happen courtesy of Macro. There isn't a more captivating live performer than vocalist Tatiana Shmailyuk in 19/20. This band rips too, and they remind me of a funk band who discovered Death's Human ('91). http://jinjer-metal.com/
—
26. Whitechapel– The Valley
Some fans don't like this. I understand why. Parts of it sound like a Stone Sour album. However, there is plenty on here for the band to avoid accusations they're selling out. Ferocious deathcore played with intent via solid musicianship. https://www.whitechapelband.com/about
—
27. Darkthrone– Old Star
Would you believe me if I said this is one of the best albums to swim to? Plenty don't, but it's the truth. It sounds like Fenriz has been listening to old Angel Witch and Satan albums. A good thing. https://peaceville.com/bands/darkthrone/
—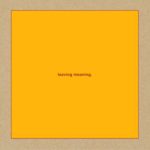 28. Swans– Leaving Meaning 
OK, I'll admit it. Almost 450 interviews into my career as a journalist and I was nervous approaching the conversation with Swans main man Michael Gira. I'd heard a lot about him; gifted, uncompromising, challenging; we ended up having a great discussion about this album. Too eclectic to label, Leaving Meaning is a thoughtful escapade through post-rock. https://younggodrecords.com/products/leaving-meaning
—
29. Carnifex– World War X
Few frontmen are as menacing as Scott Ian Lewis. On this album, the band have captured their live 'vibe' and compressed it for the studio. Brutal from the outset, the records many layers reveal melody buried deep beneath choice guitar stanzas. The vocals dominate, as well they should. https://www.facebook.com/CarnifexMetal/
—
30. Batushka– Hospodi
There is a legal battle over the rightful owner of the band name. It is the music business, after all, so don't let any clickbait detract from what is a genuinely 'entertaining' black metal album. Yes, it's OK to enjoy black metal, and these Poles do it very well on Hospodi. https://batushkaofficial.com/ 
—
31. Sifting– The Infinite Loop
This Venezuelan via Los Angeles outfit have studied what makes Megadeth, Metallica and Dream Theatre tick and borrowed it for The Infinite Loop. A masterpiece of prog- tinged thrash metal. You'll be playing air-guitar before you know it, and this is a great album to crank loud in the car. https://www.facebook.com/SiftingOfficial/
—
32. The Hu– The Gereg
Mongolian musicians using traditional instruments and throat singing to perform epic heavy metal. Majestic, haunting, powerful and life-affirming. The Gereg is what heavy metal is all about. The Hu craft music that will move you. https://www.thehuofficial.com/ 
—
33. Nile– Vile Nilotic Rites
Karl Sanders deserves a medal for staying true to his original vision of crafting brutal death metal with overt ancient Egypt stylings. His guitar playing and partnership with drum behemoth George Kollias are a dream match for fans of extreme music. They duly deliver on Vile Nilotic Rites. https://www.facebook.com/nilecatacombs/ 
—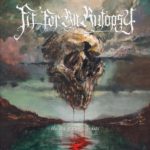 34. Fit For An Autopsy– The Sea of Tragic Beasts
2019 is a good year for deathcore. It's the little things that matter on The Sea of Tragic Beasts. The pitched dive-bombing by the guitarists on "No Man Is Without Fear" should be added to the extreme metal guitar playbook. Devastating. https://fitforanautopsy.bandcamp.com/ 
—
35. Kublai Khan TX– Absolute
This album is hardcore that's tough enough to slit your throat. Matt Honeycutt vocal rips and tears the mic in the aural equivalent of a vicious beating. Sweet staccato guitar grooves that never fall into cliché. Fuck You! https://www.facebook.com/KublaiKhanTexoma/ 
—
36. Agnostic Front– Get Loud!
It took me a while to warm to Roger Miret's voice back in the day. Vinnie Stigma's guitar tone still sounds like a Ford FE V8 engine about to redline. It's all here: lyrics about personal empowerment, 4/4 drumming that serves the song, and killer grooves. https://www.facebook.com/agnosticfront/ 
—
37. Cattle Decapitation– Death Atlas
The band that sits atop the putrid pile spitting venom at society's inaction toward animal cruelty, environmental destruction and human apathy, They get it right on Death Atlas. Lightning-fast guitar leads courtesy of Josh Elmore. I'm thinking of starting a 'Guitar World' style online publication focused on extreme metal guitarists. Exhibit A! http://www.cattledecapitation.com/
—
38. Angel Witch– Angel of Light
There's life in the old beast yet. One of the flag-bearers of the hallowed NWoBHM movement adds to their tremendous legacy with this album. Listening to this, you can hear who Metallica is still trying to emulate. Keep trying Lars, and you'll never be Angel Witch! https://www.facebook.com/angelwitchofficial/
—
39. Necropanther– The Doomed City
Alongside Power Trip, these guys are the pick of the nouveau thrash bands. Down picked guitar passages that'd make James Hetfield blush. This album follows last year's excellent Oppression EP. Keep it up! https://necropanther.bandcamp.com/ 
—
40. Freedom of Fear– Nocturnal Gates
Adelaide can spawn world-class heavy metal. These guys have been reading the Chuck Schuldiner and Paul Masvidal playbook. Good for them. Heaps of labyrinthine passages take the listener on a journey. Very enjoyable. https://freedomoffear.bandcamp.com/ 
—
41. Child Bite– Blow Off The Omens
Would you believe me if I again said that this is excellent music to swim to? Well, it is! They sound like a band from the 60s who found The Jesus Lizard and started fucking shit up. They did a tour of regional Australia with King Parrot, mad props! https://www.facebook.com/childbiteofficial/ 
—
42. Overkill– The Wings of War
It wouldn't be a year-end list without the great Overkill featuring with another killer offering. No other thrash band has a history as consistent as the New Jersey wrecking crew. When I say this album is more of the same, that's a truly great thing. http://www.wreckingcrew.com/ 
—
43. Possessed– Revelations of Oblivion
This album is a grower. Jeff Becerra assembles a genuinely gifted cast of death metal musicians to help him craft an album that isn't so much a comeback, more a statement of intent. Looking forward to the next one too. https://possessedofficial.com/ 
—
44. Citizen of the World– Window To Your Mind
Sydneysider Gerrit Gmel knows how to craft a song. Small ripples of synth wash over simple guitar leads as the percussion gently prods the songs along. Gmel's voice has that late-night FM radio quality. Listen to it, looking at the ocean. http://citizenoftheworldmusic.com/
—
45. Santana– Africa Speaks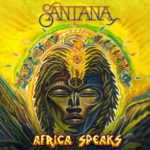 If like me, you were almost permanently scarred by Santana's partnership with Rob Thomas from Matchbox Twenty, I understand your reluctance to go near the revered guitar icon. I can't 'unhear' his diabolically annoying leads from that era, but Africa Speaks a massive step in the right direction. https://www.santana.com/
—
46. Heart of a Coward– The Disconnect 
Fast as a shark and twice as deadly. It sounds like they tune to low B. If that's the case the thousands of bands out there trying to capture the aural violence of low tuning need to hear this. Metalcore has a strong heartbeat if these guys are a unit of measurement. https://www.facebook.com/heartofacowardofficial/
—
47. Black Star Riders – Another State of Grace
I'll admit I'm far more a fan of Scott Gorham the MAN than I am of the band itself. Is there a more friendly, effortlessly humble guitar legend in the biz? I think not. Across Another State of Grace the band honour Gorham's considerable legacy. https://www.blackstarriders.com/ 
—
48. Michael Schenker Fest– Revelation
In a competition for the most influential guitarist in rock and metal, Schenker wins (at least) a bronze medal. The famously introverted musician proves he's got a tonne of great music in him on Revelation. He's helped out by a cast of superb musicians and vocalists from his past. https://www.michaelschenkerfest.com/ 
—
49. Netherbird– Into the Vast Uncharted
If any band summarises the excellence of underground heavy metal in 2019 and beyond it is Netherbird. Beautifully recorded, mixed and composed. Think classic heavy metal stylings through an extreme metal filter. https://www.netherbird.com/ 
—
50. As I Destruct– From Fear To Oblivion
Another Adelaide band performing killer modern heavy metal. Machine Head could sound like this if Rob doubled down on the extreme factor. These guys go off live too. Not hard to see how and why. https://asidestruct.bandcamp.com/
—
---
---