TURMION KÄTILÖT RELEASE 9TH ALBUM 'GLOBAL WARNING' AND UNCENSORED VIDEO OF 'NAITU'
Finnish techno metal act Turmion Kätilöt have released their 9th album "Global Warning" via Nuclear Blast Records and they keep on thrilling the music business with another daring release: The band has released the uncensored version of 'Naitu' via Pornhub.
If you're brave enough, check out the video on the band's Pornhub profile:
https://pornhub.com/users/turmionkatilot
You can find the censored version of 'Naitu' here:
https://www.youtube.com/watch?v=ltsVs2_HIBc
"'Naitu' is like your life on camera. Nothing censored. Nothing fake. Just pure, naked and raw animal-like lust and passion that we all think and feel, yet try to deny. This song is about that delicious 'something' that makes your horny body dance", Shag-U explains.
The album is available here: https://music.apple.com/au/album/global-warning/1496734047
From the very beginning TURMION KÄTILÖT has had a reputation of being a great live band. Disco beats from the 90's, metal to the pedal, melodies, sing‐a‐longs, you name it ‐ there are no rules. Yet still, if you peek under the skin you can find the darkness pointing its finger to you. Their live shows have been praised to be the fiercest and craziest mayhem to be witnessed creating the twisted world of TURMION KÄTILÖT. Come and embrace your true self.
Of the new record MC Raaka-Pee says:
"This is a dangerous album. F*cking great. We've created a snake that will slither its way into the souls of many".
"This is the prize we've all been waiting for. I can't wait to perform this to our fans. This album sounds exactly like we wanted it to – no compromises were made", Shag-U adds.
Turmion Kätilöt are:
MC Raaka Pee – Gesang
Master Bates – Bass
B. Undertaker – Gitarre
RunQ – Keyboard
Shag-U – Gesang
DQ – Schlagzeug
TURMION KÄTILÖT online:
http://www.turmionkatilot.com
http://www.facebook.de/turmionkatilot
http://www.instagram.com/turmion_katilot_official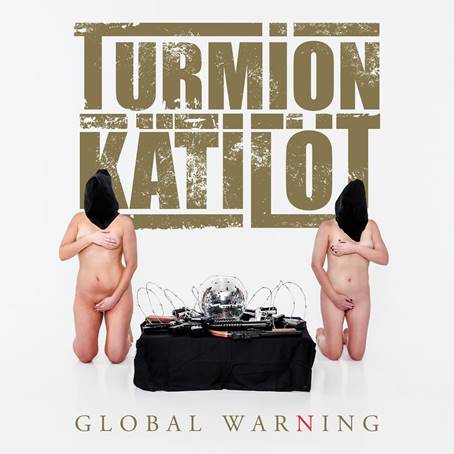 ---
---