I had the chance to chat with ZP, lead singer of American hard rock band Skid Row. We talked about their upcoming Australian tour, the introduction of ZP into the band, and their progress on their new record.
J: Skid Row are heading over to Australia pretty soon, have you been to Australia before?
I have personally, my family actually moved there in 2005. The last time I was playing there was about 2007 with Dragonforce. I'm very excited to be heading back there.
J: You'll be playing at The Gov in Adelaide when you're in Australia, have you ever been there before?
I haven't no, but I've been checking it out online and it looks like a really nice place to play, so I'm really looking forward to being there in person.
J: You guys will be stopping in New Zealand too, have you been there before?
I've been there once for business. The little bit of it that I did get to explore was really amazing. It's one of the places that I haven't got to spend that much time in, so I'm really looking forward to playing there.
J: You're originally from South Africa, do you get to go over there very often?
No, 2005 was the last time I was there. Since my family all moved to Australia, there's not many reasons to go back there unfortunately.
J: You've got the third part of the untied world rebellion trilogy, which has been an ongoing saga for you guys, can you tell me about that?
I was around last year that we had a chat and decided we wanted to finish the trilogy. We wanted to do something really good, so we started writing at the beginning of this year, and we've got a fair few songs that we're sifting through at the moment. This will be my first appearance on a skid row record, and I'm really excited and looking forward to recording those songs.
J: Have you got any collaborations planned for the new record?
Well, maybe in the background and the writing department, but as far as the actual recording goes, it's just going to be us. We're adamant on this being a very full on skid row record. The boys are collaborating with some other writers, for some fresh ideas and a fresh outlook, it's good to have somebody new to bounce ideas off of.
J: This is going to be your first record with skid row, as you said. What happened with Dragonforce, and how did this all come to be?
Well, there was about four or five years in between. I think Dragonforce kind of ran out of steam I guess, but other doors opened, and I took the opportunity. I'm really happy in skid row, the moment I walked in they guys were all really accepting, they greeted me with open arms, it's like a big happy family. The core members of the band have been friends for over thirty years, but it's great, there's no drama or bullshit. There's so much mutual respect between the band, and we all unite together in music, which is our passion.
J: When do you think the third part of the United World Rebellion trilogy will be released?
To put a ballpark figure on it, I'd summer next year. I reckon about July or August 2019. We're so busy touring, we have to fit in writing on our few spare days. There's a very delicate balance with that, everyone lives all over the country. To get together to write takes some organising, and it can be pretty intense. Whenever we get a minute we try to sort it all out.
J: Do you have a favourite song to play live?
There's lots of great tracks, I get excited about all of them. When the intro to a song starts, I get absorbed into the track. There's some challenging ones, but I really love them all.
J: Have you had a chance to check out any of the support acts that will be playing with you guys in Australia?
No, I haven't really. I've heard a couple of tracks from some of them, because we got to choose the bands from the ones that applied. We're looking forward to getting down there and meeting everyone and hanging out.
J: When you're in Australia, is the band going to be doing any press stuff together?
We've got so little time. We fly in, and the first show is the next day, I think we have one day off in Sydney. Time permitting, I would love to just go fishing down there. We'll be busy.
J: Have you got any music videos planned for the near future?
There's definitely something on the horizon, we've been getting a lot of footage from our live shows together. I'm not sure when, but there's something coming, we'll see what happens.
You can catch Skid Row on their upcoming Australian tour in most major cities. Keep up to date with what the band is up to by following them on social media or via their website. Grab your tickets now, because they're selling fast, and you don't want to miss out on this awesome show!
Links:
Australian show ticket link here.
Facebook: https://www.facebook.com/OfficialSkidRow/
Website: https://www.skidrow.com/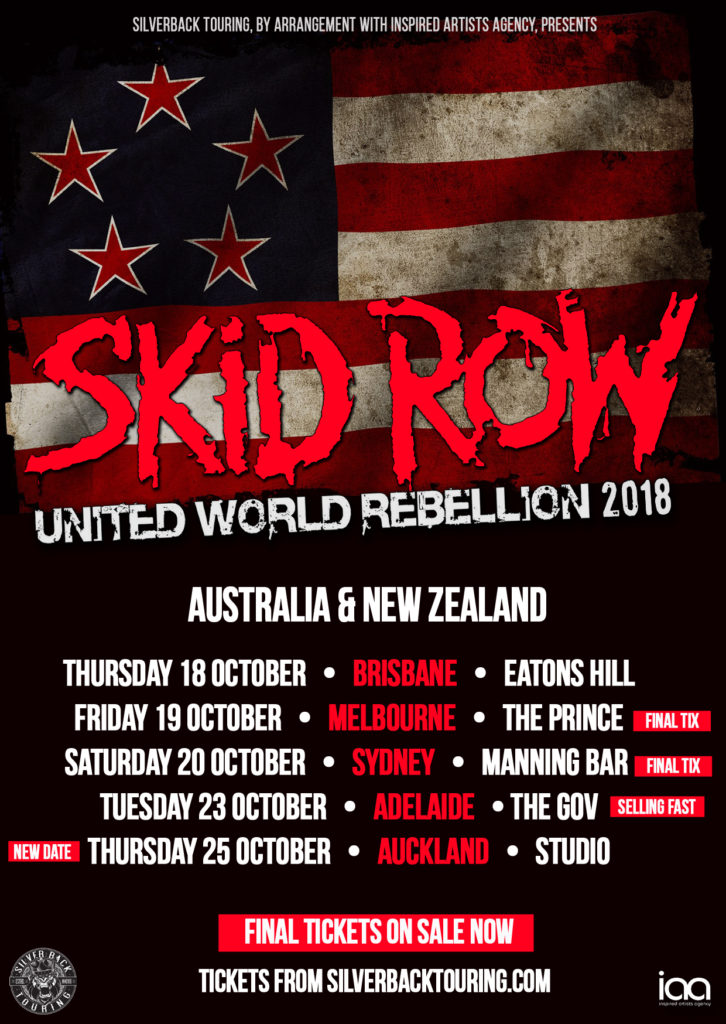 ---
---