Hardline Media Presents
The ULTIMATE TRIPLE BILL KILL
Australia are you ready? Well you better be well prepared because we have seen nothing like this before. A 3 pronged attack of darkened, deathly Swedish majesty, in the form of AT THE GATES, THE HAUNTED and WITCHERY are headed our way for a hellishly heavy Scandinavian assault for what is a possibly once in a lifetime tour.
The Triple Bill Kill Tour has now announced a fourth show on Wednesday 24th April, at The Basement in Canberra. All 3 bands AT THE GATES, THE HAUNTED and WITCHERY will be there on Anzac Day Eve so time to recover with public holiday the next day.
Tickets through www.hardlinemedia.net
Then AT THE GATES are jaunting out on their own for a one of show in Hobart at the Odeon Theatre on Sunday the 28th April, this is an all-ages show, thanks to Southern Extremities, tickets thru Oztix. On sale now!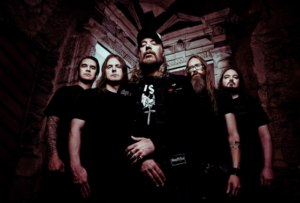 AT THE GATES are innovators. From debut album, The Red In The Sky Is Ours, through comeback stunner, At War With Reality, the Gothenburg-based death metal act have always traversed the left-hand path on their own terms. The Swedes are keenly aware of who they are, where they come from, and how they got to where they are today. In the '90s, AT THE GATES spearheaded The New Wave of Swedish Death Metal. In the aughts, then-swansong album, Slaughter Of The Soul, served as a feature-rich treasure chest for a host of upstarts to plunder. When AT THE GATES returned in 2008 — a full 12 years after they disbanded —their return was celebrated and the follow-up to Slaughter Of The Soul — now placing handsomely on Top Metal Album Lists — hotly anticipated. Now, four years after At War with Reality, the Swedes recently unleashed their indomitable spirit, ceaseless ingenuity, and raw power on new album, To Drink From The Night Itself.
Launched in 1996 by guitarist Jensen, bassist Jonas Björler and drummer Adrian Erlandsson, THE HAUNTED enjoy a cult status in the metal world, boasting a diverse catalogue of material that would have left other bands digging their own grave. Whether the band's continued success is due to an open-minded fanbase, stellar musicianship, or an infallible sense of timing when it comes to releasing new material – perhaps a combination of all three – THE HAUNTED continue to be an unpredictable and beloved force to be reckoned with in spite of the curveballs thrown at their loyal followers and the line-up changes since releasing their self-titled debut in 1998. Their latest album, Strength In Numbers, is the latest testament to that claim. THE HAUNTED'Slegacy of remaining diverse without diluting the sound that seeded a loyal fanbase two decades and is continuing to being in new listeners not only by its compositional class and performance prowess, but also by its relentless heaviness, the displayed atmospheric intensity and the material's consequential imminent impact.
Over 20 years into their existence, Swedish blackened Thrash Metallers WITCHERY stay the course crafted on 2016's praised In His Infernal Majesty's Servicealbum and offer a slab of 11 new deadly tracks on their newest full-length studio effort I Am Legion. Forging onwards with their recently revamped line-up they enhanced their newest nocturnal anthems with an organic, yet powerfully up-to-date sound, which deeply pleased every fan of blackened Thrash/Death. A revamped and brilliant new line up has served to open a next chapter in the history of WITCHERY and I Am Legion marks a bewitching next step forwards for these pioneers of the blackened Thrash/Heavy Metal style.
The Ultimate Triple Bill Kill 2019 Tour Dates
Wednesday 24th April – CANBERRA The Basement
Thursday 25th April – BRISBANE The Triffid
Friday 26th April – SYDNEY Manning Bar
Saturday 27th April – MELBOURNE Max Watts
AT THE GATES New Show Date
Sunday 28th April Hobart Odeon Theatre *
* At The Gates only
Tickets: On Sale NOW!
---
---