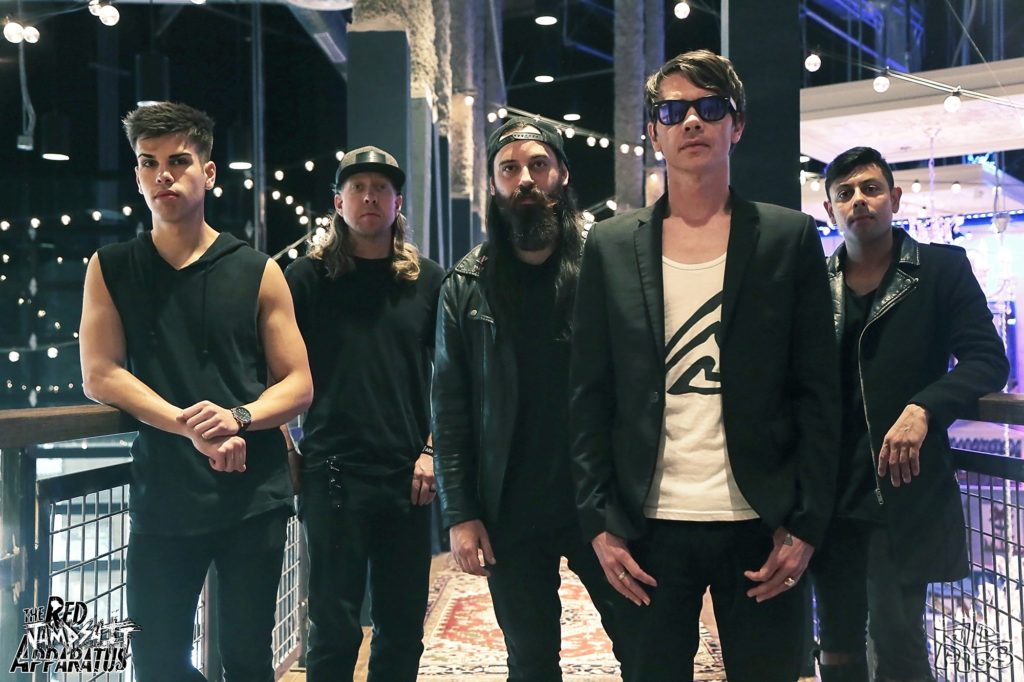 I caught up with Ronnie Winter, vocalist of American rock band The Red Jumpsuit Apparatus. We chatted about their upcoming shows in Australia, they're new record 'The Awakening', and their track 'Becoming Willing', which has just hit number one on the Billboard Charts.
J: So your song 'Becoming Willing'has just hit number one on the billboard charts, how do you feel about that?
Yeah man, it's absolutely wild, I can't believe it made number one!
J: 'The Awakening'is your first record in four years, what's the reason for the four year gap?
The album was almost done a couple of years ago, but I have a son, who is now two years old. When he was born, I wanted to take a bit of a break from the band stuff, I wanted to make sure I was really involved in his life from day one, you know? The awakening is also a concept album, so it took a bit longer than a regular album. I really had to take my time and make sure the album fitted together and the concept was clear.
J: Congratulations on becoming a father! You're kicking of your Australian/New Zealand tour next month, are you looking forward to that?
I really am! Every album cycle or anniversary means we get to tour, and I always look forward to Australia. The people over there are awesome, we have some older fans now who have been listening to us for years, but we've also got a bunch of younger fans too, which is great. Every time the band has been over there it has been an amazing time, and we take every opportunity to do so.
J: You're playing in most major cities, is there any particular reason you won't be playing in Adelaide?
Well, we're planning on coming back in the near future, so for this tour we're only playing five shows. It's a bit more exclusive, so the cities we're playing in are based on our analytics, the cities with the most listeners are the ones we're heading to this time. We don't have that much time over there on this tour, but next time we go there we're going to hit as many cities as possible. It's more of a short, concentrated run.
J: You guys are stopping by New Zealand as well on this tour, when was the last time you were over there? Have you got any good memories that you can share?
Well, we were supposed to be in New Zealand a little while ago, but unfortunately fell through. We're just guys in a band, we can't control that type of thing. For some reason, we found out that we weren't cleared to enter New Zealand for some reason, so we missed out. It can happen in any country for whatever reason, sometimes you just get denied entry. This will be our first time in New Zealand, and we're really looking forward to it, it's been a long time coming.
J: What did you do differently on 'The Awakening', compared to your previous releases?
Yeah, I actually co-produced this album with my wife, Angela, which was a lot of fun. She's a phenomenal producer, and she and I have been wanting to produce a record together for years. We worked with the engineer, Mick, and the album that we created turned out really well, we're really happy with it. We were able to capture the band in a really cool way, blending our old school sound with a more modern vibe, and the results were fantastic.
J: Do you have a favourite track from 'The Awakening'?
That's a hard question, they're all my babies. A lot of work has gone into all of the tracks, and I've been so deeply involved with the production of every track. With that being said, I would say that my favourite is the last song on the album, because it was the last one that I wrote. It's the most fresh to me, as a writer, singer and co-producer, and it's the most different song on the record. It's kind of a throw back to our older songs, and we decided to take the melody and the progression in a whole different direction to what we usually do. People really like it so far, it's kind of the Underdog of the album, we haven't pushed it at all, but it seems to be grabbing attention.
J: How did you come up with the name 'The Red Jumpsuit Apparatus'?
When the band first started, our bass player at the time was trying to think of band names, and he was a super smart brainiac type guy. We had a list of names that we were looking over, and the one that we like was 'The Red Jumpsuit', and we added the word 'Apparatus' to it, which was the bass players idea, because he said that the name made us sound like we could achieve anything. The rest of us were like "Yeah, cool, whatever man, it's a fun, weird name". The name ended up catching a lot of attention as the band grew, so it's all thanks to him for the whacky name.
J: Why did you choose to go with the album title 'The Awakening'? Is it a spiritual reference?
Well, 'The Awakening' can be thought of in a lot of different ways, I don't think it necessarily has to be thought of in a spiritual or religious sense. The album itself is an experience from beginning to end, we wanted to create a special listening experience, like people have when they listen to records like 'Dark Side of The Moon'by Pink Floyd. The title doesn't necessarily mean anything, but the music itself means everything. It's kind of my first proper concept album, It's about a character who is facing a lot of turmoil and strife, and then he makes a change in his life for the better and realises that sometimes our own decisions in life are the problem. He changes himself for the better and becomes better, and that's the general story of the record. A lot of that story involves God, because I am a religious person and I'm not afraid to talk about it, but it's not only about that, it's about all of the emotions that you go through growing up, and making hard choices in life. The band is getting older now, we're all about thirty five now, and when the band started we were all about nineteen, so we've learned a lot of thing and gone through a lot of things in that time. Everyone gets older and wiser, and we think that everyone can relate to a part of this record, no matter what age you are or what stage of life you're going through.
J: You guys have toured alongside bands like My Chemical Romance, The Used, and Taking Back Sunday, among many other artists. Have you got any favourite bands to tour with?
Yeah, absolutely. I'd say all the bands you just mentioned are pretty good mates of ours. When you become a fan of a ban, it's for life, and we become fans of pretty much every band we tour with. If a band breaks through to me, and I think that they're good, I'm a fan for life.
J: What messages do you have for your fans over here in Australia?
We're really grateful that you like the new album, unfortunately we're not visit every state on this next tour, but we're looking forward to coming back soon to see all of you. It can be hard to know how our music is doing over in other countries, but our Australian fans are so supportive and have so many kind words that they post on our social media, and it's really great to know you guys are enjoying the music that we create, it means a lot to us. We've got a really exciting live show for you guys, and we can't wait to get down there and have a great time with all of you. It's going to be really fun, we'll be playing a bunch of stuff from the new album, and a bunch of older songs that we love, there will be something for everyone. We're sorry that we can't make it to every city this time, but we'll be back really soon for those of you who can't make it to our show.
You can see The Red Jumpsuit Apparatus on their upcoming Australian tour for their album 'The Awakening'. They will be supported by The Comfort, and will be playing in Brisbane, Melbourne, Newcastle and Sydney, so make sure you grab your tickets before they sell out! If you can't make it this time, don't stress! They will be back soon to visit the rest of us, but if you can't wait that long, it's probably a good time to find whatever plane, train or automobile that can get you to your nearest show!
Click here for tickets.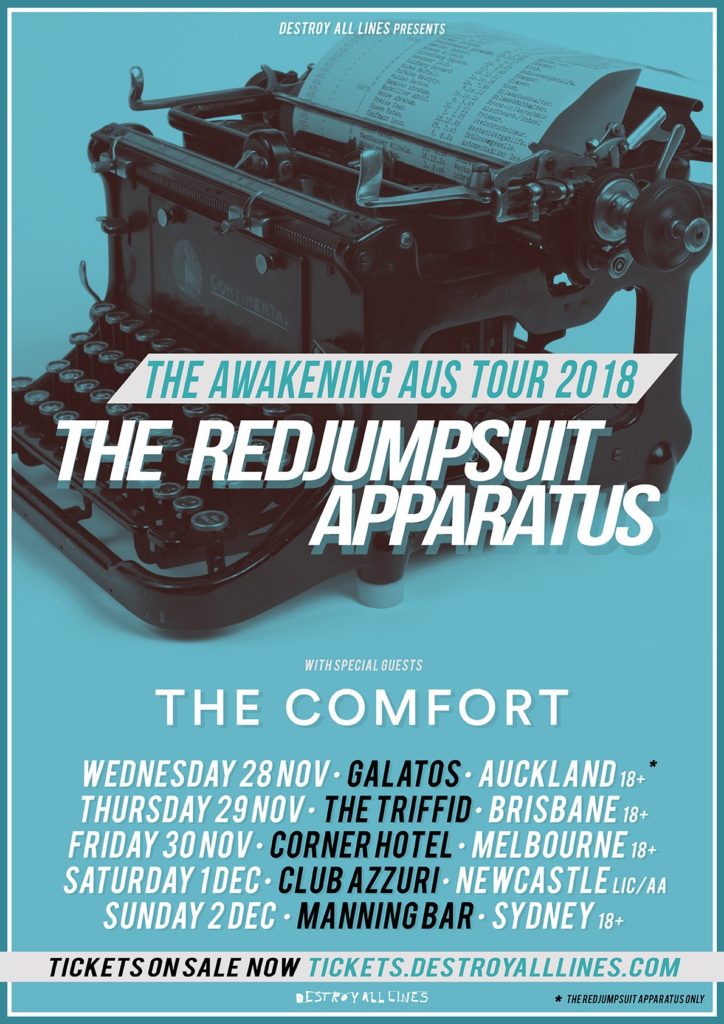 ---
---