REFUSED
THIRD SINGLE 'ECONOMY OF DEATH' OUT NOW LISTEN HERE
PREORDER THE NEW STUDIO ALBUM, 'WAR MUSIC' HERE
HIGH RES BAND IMAGE: HERE
'ECONOMY OF DEATH' Stream: HERE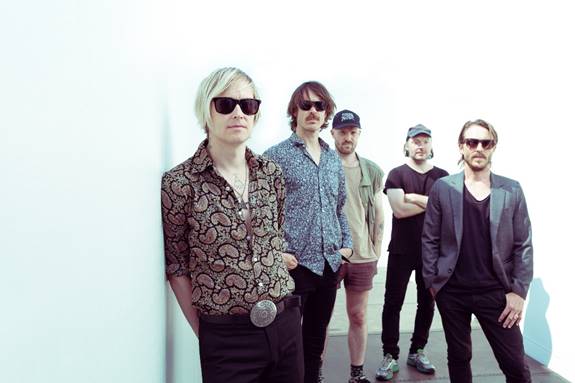 "Economy of Death", the third track off the highly anticipated fifth album by Scandinavian punk legends Refused ('War Music', out October 18) is a master class in the specific type of songcraft that has made the Swedes one the most respected and celebrated bands of their generation. It contains one of their most punishing riffs and one of their most tender moments in its four-minute running time. Sharp as a shard of glass and blunt as a wrench to the temple, with echoes of German speed metal and the snarl of early punk, this mesmerizing tour de force will make the week-long wait for the record unbearable.
This is a brilliant band at the peak of its power, capturing the paranoid madness of the present moment like no other artist working today, like a metal Don DeLillo or a The Who on steroids with a handsome Slavoj Zizek on vocals. "It's only a mushroom cloud away" Lyxzén declares, and if you want to know the alternative to this doomsday scenario, stay tuned for 'War Music', where the intellectual northern European punks have even included a fanzine elaborating their vision for a better tomorrow.  The album is available for preorder here.
ABOUT REFUSED
Formed in Umeå, Sweden in 1991, hardcore-punk legends Refused are one of the most influential rock bands of the early '00s. Artists as diverse as  Linkin Park, Rise Against, Steve Aoki, Paramore, Thursday, Dillinger Escape Plan, Blink-182, and AFI have been heavily cited crediting the release as being a fundamental influence on their musical styles. That album has become a cultural touchstone for the entire post-hardcore generation as the year zero of stylistic genre-bending – utilizing electronics, jazz and slick production for the first time – their reputation tent-poled by politically radical lyrics and solidified by their energetic live shows to spread their message.
After a 14-year pause, the band reunited in 2012 playing much-anticipated shows like mainstream festival Cochella and were subsequently awarded the "Special Prize for Music Exports" by the Swedish Ministry of Trade in 2013.  In 2015, they released their fourth studio album 'Freedom' which was recorded with Nick Launay (Nick Cave and the Bad Seeds, Killing Joke), while also turning to Swedish pop/producer Shellback –whose credits include Taylor Swift and Britney Spears –for the lead single "Elektra". Out Oct. 18th – 'War Music' will be their fifth full-length studio album and will be accompanied by a Worldwide concert tour.
---
---