Bassist and multi-instrumentalist Stuart Chatwood and his band The Tea Party are touring Australia in June, performing prime cuts selected from their catalogue within intimate venues.
Given The Tea Party's main man Jeff Martin now calls Australia home, this tour could feel like a quasi-homecoming for the revered Canadian outfit.
Chatwood was keen to discuss the tour and the band's relationship with Australian audiences, he even name checked a familiar Sydney live music icon when he said the band were looking forward to the performances.
"We love the music fans there and I think the (Australian) music fans do tend to hold the artists to a higher level," he said.
"I think if you're from Britain and you have a 25-minute set and you try and sell that to Aussie fans; they're going to boo you off stage… hopefully (cue laughter).
"And we came out of these, you know, these pubs, whether it be the Annandale hotel and things like that doing two-hour shows."
It's great to hear that the spirit of Australian pub-rock is clearly imbued within The Tea Party's DNA!
Emerging from the early 90s alternative music empire that briefly held the music industry's throne for most bankable artists, few North American bands have endeared themselves to Australian audiences like The Tea Party.
In fact only Henry Rollins, Ben Harper and Michael Franti can also claim a legitimate stake to that small list of essential artists that have spent significant time in Australia cultivating a following.
"I think all of us, we all love Australia and it just makes for a mutual respect from the audience and the artist," he said.
"You've got a great country… obviously it's great because Jeff lives there. (laughter)"
Recalling the bands epic set at the Sydney edition of the mammoth Alternative Nation festival in 1995, Chatwood recalls a performance on a smaller stage in front of a heaving audience.
Chatwood also said that he remembers some unusual antics from fellow artists on the three-date festival.
"I remember the stories from that (festival); Trent Reznor (Nine Inch Nails) kicking over a $20,000 light every night, and paying cash every night," he said.
"We shared a dressing room with Ween… they made it clear to their fans that they love home cooked food so they'd get all this home cooked food and inside the dressing room… it's all this diet stuff.
"It was pretty funny, I've never seen a dressing room like that, every single thing was diet, I mean they would have had diet water if there was such a thing."
Editor's note- I was present for the Sydney festival appearance on April 15. I recall Lou Reed copping an absolute bagging from the audience. In fairness to Reed, organisers got it completely wrong putting the veteran on after Tool, Live, Body Count and host of other heavier bands. If you decided to leave Reed's acoustically based performance and catch The Tea Party, there simply wasn't enough space to watch the band as the full moon gave their (then) two album catalogue a mystical quality that drew people in. I can't even say I saw much of the performance, but I certainly heard it and can attest that it was a performance I will never forget.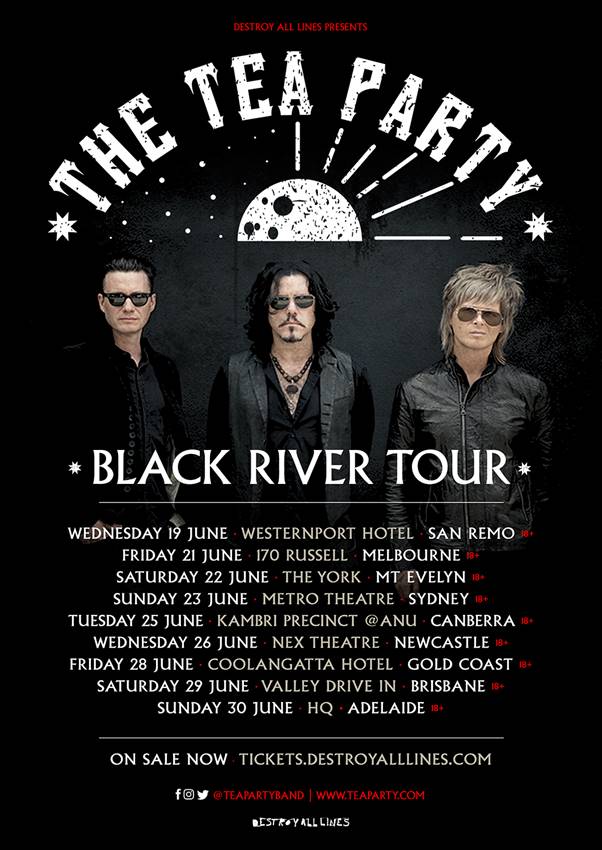 ---
---